Subscribe to our Newsletter
Written by Chris Mackey
Tuesday, 28 August 2012 06:56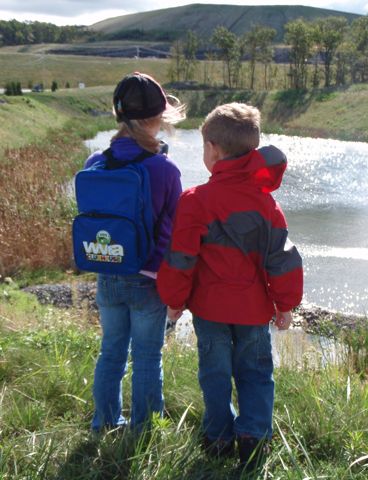 - AllieGator and Paws taking to the trail in Pittston for a 4/4.
The summer is sadly past it's prime now as the school doors open to another year of shaping young minds and the leaves begin to reveal their petticoats. After a spring that couldn't seem to find its way and a summer than came in a furious burst of heat we're finally heading back into my very favorite time of year... Autumn!!! Cooler breezes offer respite and encourage longer treks into the woods. Shorter days make me pick up my pace to hurry to get it all in before the winter arrives. Fall was made for geocachers who love to get outdoors. Less bugs, blossoming color, cooler temps and crisp air in the early hours are calling.
Sadly, this summer has been a slack time of caching for myself. I have cached, I have traveled, but I've done a lot more events and running than just hitting the trail by myself. I think the weeks ahead may put me back on the path I love though. The fall is here and while I may have to hit the trail in the dark to get in a hike before the workday, it will be worth the effort if I can just drag along my coffee cup. Kayaking during the sunrise is more likely now even if the water is colder, but I do love the foggy mists rising off the water in the morning. I'm really looking forward to recharging my geo-senses this fall.
So I hope to see you out there on the trail, too. Don't forget to take your camera! Wildlife is in a furious rush now to get things ready for the cooler days ahead and you'll never have more opportunities to catch a glimpse of the rare than in the fall. Get it all in now before the rain, the sleet and the snow slow our caching pace.
Ode To Fall
The suns heat no longer scorches,
Leaves turn from green to brown,
Fall is soon approaching,
Leaves scatter to the wind and ground.

Wind changes direction,
The Bee's don't seem to care,
They turn aggravated and tormented,
As the summer breeze turns to fall's cool air.

Squirrels building homes,
Paper and leaves crammed in their mouth,
Birds in open skies do roam,
Making their way back to the south.

Butterflies in final flight,
The wind allows them to glide,
Dragonflies till the dusk of night,
Fall's here - Summer we bid goodbye.
- Annalee (Lei Lei) Hopkins 8/29/2011
Last Updated on Monday, 17 September 2012 08:14