Written by Chris Mackey
Tuesday, 28 August 2012 06:56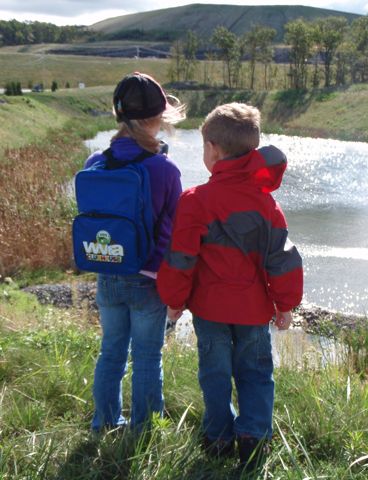 - AllieGator and Paws taking to the trail in Pittston for a 4/4.
The summer is sadly past it's prime now as the school doors open to another year of shaping young minds and the leaves begin to reveal their petticoats. After a spring that couldn't seem to find its way and a summer than came in a furious burst of heat we're finally heading back into my very favorite time of year... Autumn!!! Cooler breezes offer respite and encourage longer treks into the woods. Shorter days make me pick up my pace to hurry to get it all in before the winter arrives. Fall was made for geocachers who love to get outdoors. Less bugs, blossoming color, cooler temps and crisp air in the early hours are calling.
Sadly, this summer has been a slack time of caching for myself. I have cached, I have traveled, but I've done a lot more events and running than just hitting the trail by myself. I think the weeks ahead may put me back on the path I love though. The fall is here and while I may have to hit the trail in the dark to get in a hike before the workday, it will be worth the effort if I can just drag along my coffee cup. Kayaking during the sunrise is more likely now even if the water is colder, but I do love the foggy mists rising off the water in the morning. I'm really looking forward to recharging my geo-senses this fall.
So I hope to see you out there on the trail, too. Don't forget to take your camera! Wildlife is in a furious rush now to get things ready for the cooler days ahead and you'll never have more opportunities to catch a glimpse of the rare than in the fall. Get it all in now before the rain, the sleet and the snow slow our caching pace.
Ode To Fall
The suns heat no longer scorches,
Leaves turn from green to brown,
Fall is soon approaching,
Leaves scatter to the wind and ground.

Wind changes direction,
The Bee's don't seem to care,
They turn aggravated and tormented,
As the summer breeze turns to fall's cool air.

Squirrels building homes,
Paper and leaves crammed in their mouth,
Birds in open skies do roam,
Making their way back to the south.

Butterflies in final flight,
The wind allows them to glide,
Dragonflies till the dusk of night,
Fall's here - Summer we bid goodbye.
- Annalee (Lei Lei) Hopkins 8/29/2011
Last Updated on Monday, 17 September 2012 08:14
Written by Chris Mackey
Wednesday, 28 March 2012 09:00
In like a lamb...
Well we all know the old saying "In like a Lion, out like a Lamb" and it's vice versa. I write this as a freezing drizzle just started roaring down seconds ago outside the window. We were treated to an early warm up and now the temps are dropping again. It's not all bad though as I see pictures posted of new adventures cachers are sharing and warm weather on it's way back soon enough.
As we start finding ourselves on the trail more and more we remind each other to be prepared for the hazards of the trail. Sunblock, Bug Spray (yep, the ticks are back!), Water, an Emergency Poncho along with other prepatory items are great, but don't forget the single best piece of safety is information. Let your loved ones know where you're heading out to. If you change your destination, leave a voicemail or text to let someone know. Go caching with a friend if you can, but just stay in touch with the world while you're out "escaping" for an afternoon (especially if you're going with young children!!).  Review your emergency plan with your kids and caching partners, too.  Let people know if you have any medical condition they should be aware of like allergies.  Something as simple as eating your trail mix and not realizing the person you're with is highly allergic to it could ruin a great afternoon.
Think first, have a plan and be safe out there friends!  Enjoy the return of longer days and more caches to be found :)
Last Updated on Wednesday, 28 March 2012 09:14
Written by Chris Mackey

Thursday, 24 February 2011 15:04

    We can rebuild it...  bigger... better... brighter...  and it didn't even cost $6 million!  Thank you to all our local cachers and to our not so local sponsors for your help in getting the new NEPAGeocachers Banner Project II from start to completion.  Look for this new addition proudly displayed at upcoming events and gatherings of NEPAG all over northeast PA. 

    The school year has started, the yard work is about done, the light is ending earlier and we're retiring to the comfort of warm blankets as the cold settles in.  Don't let that stop you from enjoying caching more than ever though!  Less tree cover means better signals.  Colder weather means less ticks and mosquitoes.  Fall and early winter are by far some of the best times and conditions for caching all year!  Get out there and pack them in before the snow arrives.  If you can't get out, write some articles about your summer caching experience and submit them for publishing here at NEPAG.  We have holiday vacations coming up soon and time to do both so let's hear from your geo experiences.  Tell us all about it!

Last Updated on Friday, 11 November 2011 08:57
<< Start < Prev 1

2

Next

>

End

>>


Page 2 of 2